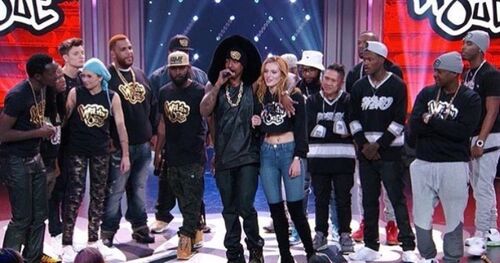 Bella Thorne/Jadakiss
is the fifth episode of
Season 8
of
Wild 'N Out
on MTV. This episode features Disney star Bella Thorne as the Platinum Team Captain and rapper Jadakiss as the Co-Platinum Team Captain and Musical Guest.
Talkin Spit - Winner: Platinum Team
Flow Job - Winner: Platinum Team
Hip Hop History - Winner: Gold Team
Wildstyle - Winner: Platinum Team
Gold Team
Edit
Team Captain: Nick Cannon
Emmanuel Hudson
Michael Blackson
Becky "Pickles" Robinson
Matt Rife
Karlous Miller
Charlie Clips
DoBoy
Platinum Team
Edit
Team Captain(s): Bella Thorne and Jadakiss
B-Daht
Chico Bean
Concieted
Hitman Holla
DC Young Fly
Timothy DeLaGhetto
Ad blocker interference detected!
Wikia is a free-to-use site that makes money from advertising. We have a modified experience for viewers using ad blockers

Wikia is not accessible if you've made further modifications. Remove the custom ad blocker rule(s) and the page will load as expected.