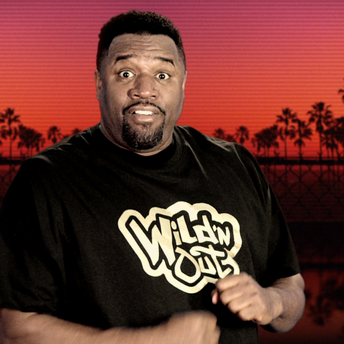 Corey Holcomb
is a American comedian, radio host, and actor. He is also one of the only cast members to be in every season of
Wild 'N Out
on MTV and MTV2 until his final season in
Season 8
.
Biography
Edit
Often billing himself as "ghetto Dr. Phil", most of Holocomb's stand-up material revolves around relationships, particularly relationships gone wrong. He is a regular on television shows such as Comic View, Def Comedy Jam, Last Comic Standing, and Wild 'N Out. He was appeared in three of his own comedy specials, The Problem is You, Comedy Central Presents: Corey Holocomb, and Your Way Ain't Working. As a actor, Holocomb has appeared on shows such as Half & Half, Everybody Hates Chris, and Tyler Perry's House of Payne. He currently hosts his own program, The Corey Holocomb 5150 Show, on Tuesdays nights on the Foxxhole, but moved over to the RMC. He also stars in Adult Swim live-action scripted comedy series, Black Jesus.
He like DeRay Davis is one of the only cast members to be a recurring cast member since Season 1 of the show.
His final season as a cast member was Season 8.
Ad blocker interference detected!
Wikia is a free-to-use site that makes money from advertising. We have a modified experience for viewers using ad blockers

Wikia is not accessible if you've made further modifications. Remove the custom ad blocker rule(s) and the page will load as expected.