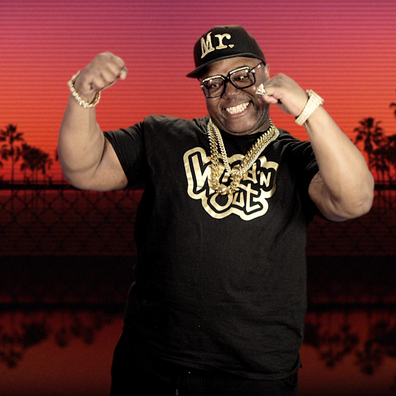 Jack Thriller
is a American comedian, radio host, and internet talk show host best known for his internet talk-show, ThisIs50.com and being one of th recurring cast members of
Wild 'N Out
since Season 6 until Season 8, but where he only appeared in one episode in Season 5.
Jack Thriller was born in Atlanta and inspired by Bernie Mac, Jamie Foxx, Martin Lawrence, and Eddie Murphy. Jack began his comedic path at 18 doing stand up, before going onto skits and sketches to eventually debut in Master P's "Hood Stars of Comedy". During that time, he did acts for Lil Jon's "Crunk Juice". His goals include acts on a Comedy Central and one day hosting his own talk. He was also on a nationwide tour "SO DISRESPECTFUL", 
He interviews many of the old and new cast members while filming a new season that premiere on the ThisIs50 YouTube channel.
He has appeared in 1 episode in Season 5, 7 episodes in Season 6, 2 episodes in Season 7, and 3 episodes in Season 8.
The reason why he only has one eye is currently unknown
Ad blocker interference detected!
Wikia is a free-to-use site that makes money from advertising. We have a modified experience for viewers using ad blockers

Wikia is not accessible if you've made further modifications. Remove the custom ad blocker rule(s) and the page will load as expected.