jess hilarious is 1 of the new cast members on season 9 of wild n out on mtv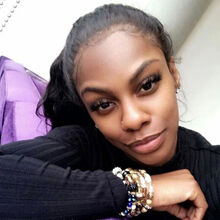 Jessica "Jess Hilarious" Moore is a 25 year old comedian and mother of one who started off her comedy in skits. She captured the attention of thousands within weeks with her witty humor. Shortly after, she introduced herself to the stage where she began her craft in stand-up comedy. Since then Jess has been storming the stage with her funny and keeping us entertained with her big personality and unique creativity. Her success has grown rapidly, opening up for the legendary comedian/actor Martin Lawrence in her hometown of Baltimore City. Jess has been featured on networks such as BET, VH1, TMZ and Centric. Till this day, Jess is working hard as ever to further her craft and expand her resume, hoping to one day be featured on the big screen.
Ad blocker interference detected!
Wikia is a free-to-use site that makes money from advertising. We have a modified experience for viewers using ad blockers

Wikia is not accessible if you've made further modifications. Remove the custom ad blocker rule(s) and the page will load as expected.