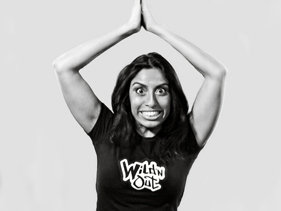 Rasika Mathur
is a American comedian and film actress, best known for being known of the cast members from every season of
Wild 'N Out
until her final season on Season 5. Mathur has also had roles on shows such as My Name is Earl, Children's Hospital, and Weeds.
Biography
Edit
Rasika has been entertaining people for nearly two decades, both as a seasoned TV and film actress. She was a main cast member on Wild 'N Out, and has roles on shows such as My Name is Earl, Weeds, and Children's Hospital. Rasika released her own musical comedy album "The Sari (W)rap" and earned Ameoba's Music Homegrown Artist of the Month. Drawing upon seven years of development work, 11 years of various Yoga training and dancing, and improv roots that started at Second City Conservatory in Chicago 14 years ago, she creates a unique experience for her audiences that's filled with humor, honesty, and heart.
Ad blocker interference detected!
Wikia is a free-to-use site that makes money from advertising. We have a modified experience for viewers using ad blockers

Wikia is not accessible if you've made further modifications. Remove the custom ad blocker rule(s) and the page will load as expected.