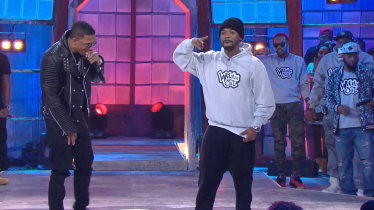 Ray J/Lil Duval
is the thirteenth episode and the winter season premiere of
Season 7
of
Wild 'N Out
on MTV2. The episode features rapper Ray J as the Platinum Team Captain, also the Musical Guest and comedian Lil Duval as the Special Guest and Musical Guest.
R&Beef - Winner:Platinum Team
Breaking Up is Hard to Do - Winner: Platinum Team
Plead the Fifth - Winner: Black Team/Platinum Team (Tie)
Wildstyle - Winner: Platinum Team
Black Team
Edit
Team Captain: Nick Cannon
Emmanuel Hudson
Conceited
Jacob Williams
King Bach
Dc Young Fly
Hitman Holla
Platinum Team
Edit
Team Captain: Ray J
Lil Duval (Special Guest)
Chico Bean
Corey Holcomb
Karlous Miller
Tattoo Man Paige
B Daht
Aarona Lopez
Ad blocker interference detected!
Wikia is a free-to-use site that makes money from advertising. We have a modified experience for viewers using ad blockers

Wikia is not accessible if you've made further modifications. Remove the custom ad blocker rule(s) and the page will load as expected.