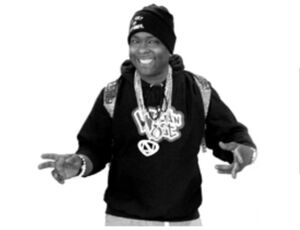 Carlos Hayes, also known as (
Spanky
) is a American comedian, rapper, skateboarder, and actor, best known for being one of the remaining cast members from the five previous seasons of
Wild 'N Out
on MTV and MTV2 from Season 1 to Season 6.
Biography
Edit
Spanky Hayes was born in Detroit and best known as the "wildest" cast member on Wild 'N Out on MTV and MTV2. Also known for his outrageous stand-up comedy show, Spanky has received rave reviews for his appearances, HBO's Badboys of Comedy, BET's Comic View, and has many others to name a few. Spanky has also appeared in several music videos, television shows, and films. Season 6 was also his final season as a cast member. Spanky is also known for his previous beef with actor and rapper, Tyrese Gibson.
Ad blocker interference detected!
Wikia is a free-to-use site that makes money from advertising. We have a modified experience for viewers using ad blockers

Wikia is not accessible if you've made further modifications. Remove the custom ad blocker rule(s) and the page will load as expected.